Em construção
Vamos, eu estou esperando! ajude a gente com esse artigo.
Sonic the Hedgehog 3 é um jogo da SEGA para Mega Drive. Como o nome indica, é o terceiro na série principal de Sonic the Hedgehog. Seu sucessor é Sonic & Knuckles. Sonic & Knuckles veio com uma novidade, a tecnologia Lock-on, e, quando fundido com Sonic 3, é possível jogar Sonic 3 & Knuckles.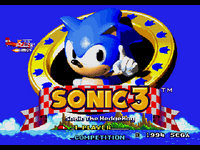 Angel Island Zone:Realmente a Ilha dos Anjos. Um paraíso verde, com algumas cachoeiras, palmeiras... Tudo estaria perfeito se Robotnik não mandasse um robô lançador de mísseis colocar toda a floresta em chamas.
Hidrocity Zone:Uma cidade mal planejada. Por ter sido construída abaixo de uma cachoeira, ficou alagada.
Marble Garden Zone:Um grande jardim com ruínas antigas.
Carnival Night Zone:Um grande e colorido circo.
Ice Cap Zone:Uma fase polar, com gelo e neve pra todo lado.
Launch Base Zone:A base de lançamento do novo Death Egg que Robotnik construiu. Sonic deve chegar ao final bem rápido para impedir a decolagem antes que ele parta.
Estágios Bônus:Dois tipos de estágio bônus onde pode-se pegar escudos, vidas e anéis.
Estágios Especiais:Estágios especiais em que se deve chegar ao final para ganhar uma esmeralda do Caos.